I.S.F.O.A. HOCHSCHULE FÜR SOZIALWISSENSCHAFTEN UND MANAGEMENT
GEMEINNÜTZIGE FORSCHUNGSORGANISATION VON ALLGEMEINEM INTERESSE
DIE WÖRTLICHE ÜBERSETZUNG IN DIE DEUTSCHE SPRACHE FÜR "HOCHSCHULE" IST "UNIVERSITÄT"
ISFOA ist in der Schweiz unter folgender Bezeichnung registriert: I.S.F.O.A. HOCHSCHULE FÜR SOZIALWISSENSCHAFTEN UND MANAGEMENT. Sie wurde vom Schweizer Handelsregisteramt in Bern und des Kantons Zug zugelassen. Ihre Bezeichnung übersetzt man wie folgt wörtlich in die offiziellen Sprachen der Schweiz, d.h. in die deutsche, französische und italienische Sprache:
I.S.F.O.A. HOCHSCHULE FÜR SOZIALWISSENSCHAFTEN UND MANAGEMENT
I.S.F.O.A. UNIVERSITÀ DI SCIENZE SOCIALI E MANAGEMENT
I.S.F.O.A UNIVERSITE' DES SCIENCES SOCIALES ET DE GESTION
Swiss Private Institution of University Higher Education and Academic Research of International Quality
Institution belonging to the Swiss university sector regulated by the Federal Law LPSU of 30 September 2011, it develops training courses that lead to the achievement of Bachelor Degree (Three-year Degrees), Master Degree (Specialist Degrees), Executive Master and Master of Advanced Studies, as well as Doctorates of Research – PhD, corresponding to levels 6, 7, and 8 of the European EQFE European Qualification Framework.
Adopts the procedural regulatory device V.A.E. (Validation of Knowledge Acquired with Experience) which allows all those who have acquired professional experience to apply for the release of a university-level qualification.
Legally confers private academic qualifications suitable for recognition, in the context of the Bologna Process (Bologna Directives) of 4th December 2003, pursuant to the 1997 Lisbon Convention of the Council of Europe ratified by Switzerland on 1st February 1999 and by Italy with the Law n.148 of 11 July 2002 and in the matter of professional legitimacy and validation, the Directive 2005/36/EC is applied.
All those who have obtained a university degree abroad can exercise the rights related to the possession of the certificate pursuant to Article 3 of the Paris Convention of the Council of Europe of 14th December 1959.
Pursuant to Article 54 of Directive 2005/36/EC of the European Union, the host Member State ensures that interested parties have the right to use the qualification of the Member State of origin, and possibly its abbreviation, in the language of the Member State of origin.
The host Member State may require that the title be followed by the name and location of the institution or jury that awarded it. In September 2011, the Swiss-EU Joint Committee for the Agreement on the Free Movement of Persons decided to apply Directive 2005/36/EC in the Swiss Confederation from 1st November 2011.
Consequently, each adhering country, as a host Member State, must guarantee the interested parties the use in its own territory of the qualification obtained in Switzerland in the language of the country of origin.
Name Approved by the Federal Office of the Commercial Register of Bern and the Canton of Zug and authorized by SERI State Secretariat for Education, Research and Innovation University Schools of the Swiss Confederation Federal Department of Economics, Education and Research.
Legally Authorized and Equipped following the ISO 9001: 2015 Quality Certification Review Process with the Identification Number IAS QMS F1258 for the Planning, Organization and Provision of Degree Courses in Telematic Mode issued on 24th March 2021.
Gian Franco Chierici
Presidente
Presidente Templum Corporation Scientific Research, New York
Presidente Chierici Bank, erede del Banco Chierici fondato a Bologna nel 1420
Presidenza e Sede Legale Internazionale Olympic Tower 641
Fifth Avenue 10022 New York USA
Persona Giuridica di Diritto Internazionale
Legge 18 giugno 1949 n. 385
Institution of university culture and higher studies of international law, established in the form of an Association, Foundation, Moral Entity, Society, non-political and non-denominational, and by virtue of the right of scientific research and teaching and of free economic activity, sanctioned by articles 20 and 27 of the Swiss Federal Constitution, is entitled to organize and provide university-level teaching, academic research and advanced specialist training in compliance with the prescriptions and current legislation by issuing, free and private and on an absolutely legal basis, the related claims.
Since its establishment, ISFOA has developed an intense Scientific and Technological Research activity in compliance with the provisions of the Statute, the University Didactic System and the University General Disciplinary, and are distinguished in Faculty Research activities, linked to the peculiarities of the individual departments and related characterizing disciplines, and in University Research activities concerning Technologies and Methodologies relating to distance teaching and learning processes, where the results achieved are applied both to organizational models and to psycho-pedagogical and technological models of teaching processes and distance learning and used in full by the entire facility.
In order to further strengthen this area, ISFOA carried out an analysis of teachers' skills and, mainly, of the researchers, to a reconnaissance of the instrumental means, essentially of the computer type, that could be made available for research, consequently inserting the laboratories in charge of its technological platform, hardware and software, video-conferences, distributed computing, establishing telematic links with other similar structures located internationally and thus ultimately allowing researchers to carry out their in-depth tasks using the network to exchange data, standardize research protocols and share materials and equipment.
With this precise strategic planning, ISFOA has obtained a corporate rationalization that has made it possible to optimize costs, reduce travel and missions, share knowledge and carry out checks before, during and after the realization of complex experiments, having available through the digital transformation the book assets of many libraries around the world, in fact, the digitization process has allowed the creation and updating of national library catalogs accessible via the internet.
ISFOA recognizing the importance and the need to carry out a high quality research activity that leads to the publication of the results obtained through the preparation of referenced monographs and articles in important journals both nationally and internationally in the organization of conferences, lectures, seminars and the launch of Doctoral Courses, thanks to which the various groups of researchers present within the University can grow and consolidate, whose experiences and knowledge gained significantly contribute to improving the quality of the Degree Courses, of the numerous Postgraduate and Master's Courses, which aim to offer students a high level preparation.
The academic certificate issued can use Anglophone, Italian, French or German nomenclature, and follows autonomous procedures with its methods and processes.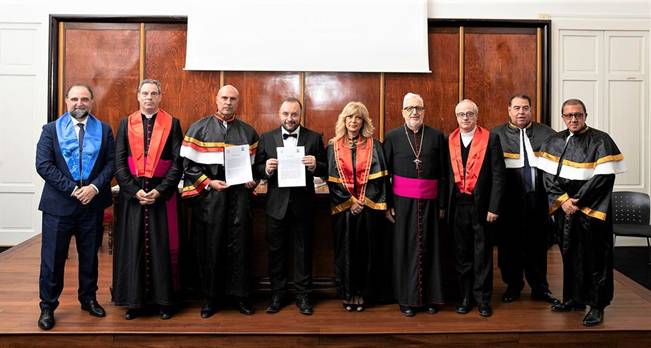 BACHELOR: 1st CYCLE / LEVEL BACHELOR DEGREE
MASTER: 2nd CYCLE / LEVEL SPECIALIZED DEGREE
PH.D: 3rd CYCLE / LEVEL RESEARCH DOCTORATE
ISFOA recognized by the national legal system as belonging to the Swiss university sector regulated by the Federal Law on Promotion and Coordination of the Swiss University Sector (LPSU), uses the three official Swiss languages, Italian, French, German, together with English and operates by offering courses leading to the attainment of Bachelor Degree (Triennial Degrees), Master Degree (Specialized Degrees), Executive Master and Master of Advanced Studies, as well as Research Doctorates – PhD, corresponding to levels 6, 7, and 8 of the European EQF system European Qualification Framework.
ISFOA through an innovative platform has developed a modern academic path designed according to the parameters adopted by the major international training organizations active in the field of learning services for education and training called LSP Learning Service Provider.
ISFOA has created a digital learning environment which, through the use of the internet, delivers lessons, seminars, multimedia products, exercises, databases, virtual libraries, evaluation and self-evaluation systems directly to the learner's portable devices, personal computers, tablets and mobile phones, online assistance and support, webinars, chatterbots, forums.
ISFOA, through the most advanced hardware solutions and software architectures mixed with traditional transmission channels represented by satellite television, videoconferencing systems, web television and radio, conferences and face-to-face lectures, has created a particular and unique circular and constant learning network resulted in an original and non-replicable socio-cultural pedagogical model.
Starting from the academic year 2010, ISFOA inaugurated a renewed organizational and managerial structure active in the Canton of Zug and in the city of Geneva and Zurich at an important diplomatic consular representation, made available by an authoritative internal member of its Academic Senate, thus moving from the city of Lugano and the Canton of Ticino.
ISFOA founded in 1998, with its over 3,500 students trained in various courses, postgraduate degrees, short degrees, master's degrees, specialization masters, research doctorates, has taken this important strategic decision based on the fact that Geneva, over 180,000 inhabitants, capital of the canton of the same name, against the 35,000 of Lugano, is the second largest city in Switzerland after Zurich; considered an international and cosmopolitan center on a financial, industrial and institutional level, it is the seat of the major national and foreign private banks and major international organizations such as the Red Cross, the United Nations, the World Health Organization, the International Labor Organization, the United Nations High Commission for Refugees, World Trade Organization, European Council for Nuclear Research, World Economic Forum, consequently represents the natural location for a prestigious academic institution characterized by an innate propensity for development and the relative consolidation of social, institutional and professional relationships.
ISFOA enjoys an internationally recognized prestige and a recognized reputation as a function of its teaching staff made up of bankers, industrialists, publishers, journalists, diplomats, academics, prelates, military, jurists, economists of great renown from the major and most well-known Italian and foreign institutions, both for their important lobbying and business development activities and for their social commitment, having granted numerous scholarships in partial and/or total coverage of the fees provided to non-learners particularly wealthy but deserving and organizing and/or financing countless philanthropic and charitable works, finally it should be noted that all the lessons are supported and integrated by the use of program trading and online trading platforms for operational simulations in open financial markets and compulsory internships are foreseen at the end of the academic learning period.
Isfoa enumera sedi operative, succursali, filiali, uffici di rappresentanza, associati e corrispondenti, in oltre 20 città a livello internazionale, Bahrein, Barcellona, Beirut, Belize City, Budapest, Dover, Dublino, Flemington, Francoforte, Ginevra, Londra, Lugano, Lussemburgo, Madrid, Malta, Milano, Montecarlo, Mosca, New York, Parigi, Praga, Repubblica di San Marino, Rijeka, Roma, Roveredo, Sofia, Tirana, Vaduz, Washington. Copyright © Proprietà Riservata – Nessuna parte del presente sito può essere altrimenti riprodotta, memorizzata in un sistema che ne permetta l'elaborazione, né trasmessa in qualsivoglia forma e con qualsivoglia mezzo elettronico o meccanico, senza previo consenso scritto dalla proprietà.